BikeSafe School Curriculum Training
Thank you for your interest in the BikeSafe program. BikeSafe is an evidence-based, injury prevention program that offers a proven four-day, off-bike educational curriculum for 4th – 8th grade children, with the option to add a 5th day for on-bike education and a neighborhood/school bike ride. BikeSafe will provide each school with a detailed curriculum. This includes a list of the physical education standards and health education standards met by each lesson, resources that supplement the curriculum, and a training session for physical education teachers, who will then be prepared to teach the curriculum in their physical education classes.
The BikeSafe program has four steps: online teacher training videos, curriculum toolkit request, curriculum implementation, and curriculum completion form. A description of each of the four steps can be found by clicking through the menu on the left.

There are five training videos to prepare you to implement the BikeSafe curriculum. Each video ranges from 3-5 minutes long and demonstrates how each day of the curriculum is to be implemented. Please click the button below to begin watching the training videos. It is suggested that you have the curriculum available as you watch the training videos, so you can follow along with the video content.
Following completion of the training videos, please fill out the four question Training Submission Form, which can also be accessed below, so that you can receive a free BikeSafe curriculum toolkit.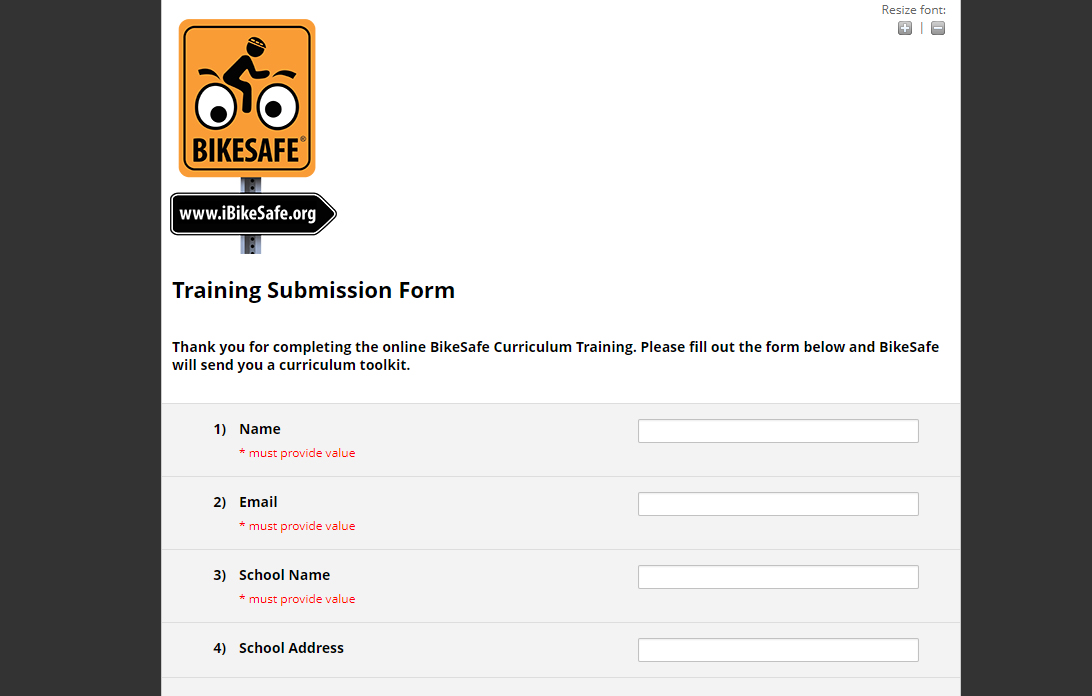 The BikeSafe Curriculum is an evidence-based four day, off-bike educational curriculum for children in 4th – 8th grade. The curriculum is taught by the physical education teacher in his/her classroom.
Each day's lesson begins with a set of objectives, materials needed, and a list of the physical education and health education standards met by that day's activities. Each day's lesson plan includes discussion scripts and activities that reinforce the safety concepts learned that day.
After implementing the BikeSafe curriculum, one teacher from each school will be required to fill out the online Curriculum Completion Form. This form allows us to track to number of children educated through the BikeSafe program, and allows for feedback from teachers who have implemented the curriculum.